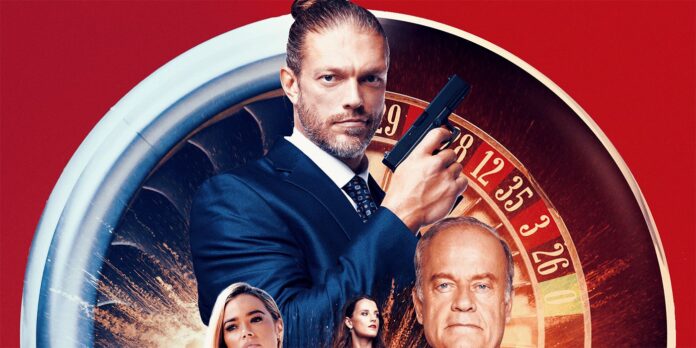 Cryptocurrency is at the center of the movie "Money Plane," which stars WWE star Adam Copeland and Jack Reese, a professional thief. The movie, which is a casino heist, will premiere at the end of this week.
"Money Plane" based on a cryptocurrency casino heist
According to the movie trailer, Money Plane is all about an indebted former gambler who has to take one last job. They have to steal billions of cryptocurrency from the "Money Plane," an airborne casino in international space. The aircraft is bulletproof and is operating in a global space where no government agency can touch it. Kesley Grammer's character indicates that the plane carries billions on board in the form of cash and cryptocurrency.
Despite not identifying the cryptocurrencies that are on the plot the screen capture indicates that the aircraft might have around $241 million worth of Bitcoin (BTC),  $128 million, $70 million, and $13 million of Ethereum (ETH), Ripple (XRP) and Litecoin (LTC) respectively. Equally, there is an undisclosed amount of Ioat (MIOTA).
Movies helping create visibility for digital assets
There have been mixed reactions from the crypto community regarding how the movie portrays cryptocurrency. One Reddit user known as JokeOlantern indicated that movies such as "Money Plane" will help create visibility for cryptocurrencies. However, the user questioned the way the digital assets are being portrayed as being associated with criminals and casinos.
Another user by the name Micro56 equally had the same concerns regarding the disconnect between real life and Hollywood. The user indicated that such portrayals are necessary when explaining the emergence of new tech such as crypto tokens. Micro56 recounted how ridiculous TV scenes and moves used to depict the internet in the past at the advent of the internet age.
Although cryptocurrencies are yet to achieve mass adoption this year, it appears to be a year when more people will move to digital assets. In June, Cointelegraph reported that Stampede Venture was producing a movie on the book Bitcoin Billionaires, Tyler and Cameron Winkelvoss.