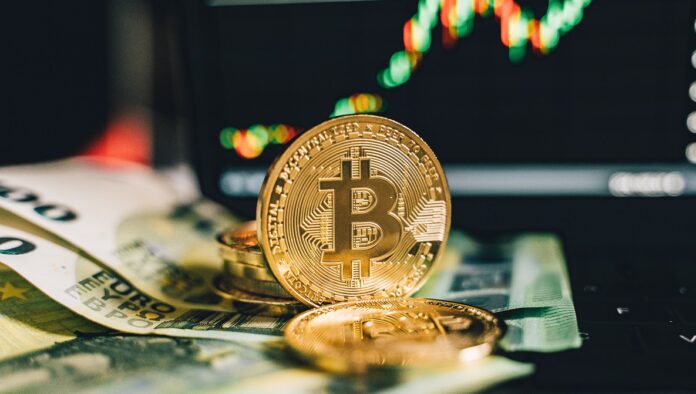 Crypto is dead. Long live crypto.
This market, perhaps above all others, is the ultimate roller coaster. Crypto investors invented the term "HODL" – or Hold On for Dear Life – for a reason. It isn't easy to stick with a bet that regularly suffers from bipolar disorder.
As Sinatra crooned, "That's life (That's life), That's what all the people say. You're riding high in April, shot down in May. But I know I'm gonna change that tune… When I'm back on top, back on top in June."
Such is life in the crypto space. However, volatility notwithstanding, the net result is that Bitcoin is the best performing major asset in the world over the past 2 years, up over 400% in that time.
HODL, indeed.
For those who missed that move, there are plenty of interesting ways to make up ground. For example, many publicly traded stocks tethered to the crypto markets often outperform Bitcoin during periods of strength.
As we move toward a world dominated by mainstream acceptance of digital currencies, digital goods, tokenization, and alternative forms of finance, investors with no exposure to stocks in the space may find their portfolios left behind.
That puts the current Bitcoin dip in a productive light. With that in mind, we take a look below at some of the most interesting stocks tied to the crypto theme that could form the foundation for an interesting shopping list over coming weeks.
Hut 8 Mining Corp. (Nasdaq:HUT) bills itself as a cryptocurrency mining and blockchain infrastructure company focused solely on mining bitcoin.
The stock provides investors with direct access to bitcoin, without the technical complexity or constraints of purchasing the underlying cryptocurrency. In other words, HUT is about as a straightforward as it gets in terms of being a proxy for crypto exposure.
Hut 8 Mining Corp. (Nasdaq:HUT) recently announced the appointment of Josh Rayner to the new role of Vice President, Sales, effective February 21, 2022. Mr. Rayner joins Hut 8 to lead sales with a focus on the Company's recently acquired data center and managed services business under the direction of CEO Jaime Leverton.
"We are excited to welcome Josh to our team to help us strengthen our existing position and expand our new customer base," said Jaime Leverton, Chief Executive Officer of Hut 8. "As both a leader with diverse experience in the data center realm and a passionate champion of digital assets, Josh is well positioned to support our continued momentum and will be an asset to our team."
Even in light of this news, HUT has had a rough past week of trading action, with shares sinking something like -17% in that time. That said, chart support is nearby, and we may be in the process of constructing a nice setup for some movement back the other way.
Hut 8 Mining Corp. (Nasdaq:HUT) managed to rope in revenues totaling $50.3M in overall sales during the company's most recently reported quarterly financial data — a figure that represents a rate of top line growth of 774.8%, as compared to year-ago data in comparable terms. In addition, the company has a strong balance sheet, with cash levels exceeding current liabilities ($375.5M against $21.9M).
ISW Holdings (OTC US:ISWH) could be the most interesting name on this list mainly because it has very real and growing operations with top-tier partnerships, but it likely still trades at a steep discount to other crypto players because it's still on the OTC market. Given the scale of the company's operations, it may not be long before it moves up to a listing on a major exchange, which could unlock a lot of value for its shareholders.
The stock is also outperforming its peers over the past three months – a period when most of the stocks in the crypto space have been crushed as BTC pulls back. During that period, ISWH is actually one of only a very select number in the space to avoid big losses. That relative strength may be an important sign of things to come.
ISW Holdings (OTC US:ISWH) has also been advancing its own interests over that period, readying for the launch of its ambitious project in the Southeastern US, where it has laid out a 10-phase process to switch on at least 200 megawatts of mining capacity in its hosting partnership with global superpower Bitmain Technologies.
In a big release out yesterday, ISWH announced the full live launch of that project, stating that it has now officially powered up the first 8 POD5 units at the site (each POD5 unit contains 280 mining rigs now actively mining Bitcoin).
"This is a tremendous day for ISW Holdings and our shareholders," stated Alonzo Pierce, President and Chair of ISW Holdings. "After months of hard work, and after overcoming a series of obstacles related to the unpredictable global macroeconomic context, we are very proud to announce that the Company is now officially hosting client mining services and mining Bitcoin at scale in our 200MW mining and hosting project."
According to the company's release, once fully completed, at current energy price spreads and agreements, this first 20MW Phase is expected to generate nearly $9 million in annualized revenues for the Company. Management expects to begin building out phases 2 thru 10 starting in April, targeting 200MW of power across 200 POD5 units, each driving 280 state-of-the-art mining rigs, by January 2023.
ISW Holdings (OTC US:ISWH) President Pierce added, "We are now in the process of deploying the first 20MW Phase 1 buildout. We will continue to energize the entire Phase 1 project over the next couple of weeks and then swiftly move on to Phase 2." As if that wasn't enough to drive interest, according to a recent update from the company, following the full deployment and activation of all 200 MW of power, ISW will reportedly have the opportunity to increase its facility to 500 MW of power, conceivably positioning the company as one of the largest crypto mining operations.
Hive Blockchain Technologies Ltd. (Nasdaq:HIVE) went public in 2017 as the first cryptocurrency mining company with a green energy and ESG strategy.
The company defines itself as a growth-oriented technology stock in the emergent blockchain industry. HIVE owns state-of-the-art, green energy-powered data centre facilities in Canada, Sweden, and Iceland, where it claims to source only green energy to mine on the cloud and HODL both Ethereum and Bitcoin. Since the beginning of 2021, HIVE has held in secure storage the majority of its ETH and BTC coin mining rewards.
Hive Blockchain Technologies Ltd. (Nasdaq:HIVE) recently announced record earnings for the third quarter ended December 31, 2021, including news that revenue rose to $68.2 million, up 30% compared with last quarter, and 397% since the same quarter last year. Net income reached $64.2 million, up 7% from last quarter, and 273% since the prior year. Hive reported combined liquid BTC and ETH with a gross value of $168 million, up 11x from $15 million a year ago. HIVE ended the current December quarter holding 1,813 Bitcoin ("BTC") worth $83.1 million and 23,290 Ether ("ETH") worth $84.9 million.
Frank Holmes, HIVE's Executive Chairman, stated "We wish to again thank our loyal shareholders for believing in our vision to mine both Ethereum and Bitcoin to generate robust cash flow returns on invested capital and we believe our results continue to validate the significant contribution to our strategy to mine both BTC and ETH and HODL as many coins as possible."
Recent action has seen 8% tacked on to share pricing for the name in the past month, but that move comes in the context of a larger bearish trend. Market participants may want to pay attention to this stock. HIVE has a past featuring a litany of sudden rips to the upside. What's more, the listing has seen a growing influx of trading interest, with the stock's recent average trading volume running 63% above the average volume levels in play in this stock over the longer term.
Hive Blockchain Technologies Ltd. (Nasdaq:HIVE) currently carries a capital value in the market of $819 million and sports a significant war chest ($180.4M) of cash on the books, which must be weighed relative to about $12.9M in total current liabilities. HIVE is pulling in trailing 12-month revenues of $172.2M. However, the company is seeing declines on the top-line on a quarterly y/y basis, with revenues falling at -22.9%.
Other top stocks in the cryptocurrency space include Signature Bank (Nasdaq:SBNY), Riot Blockchain Inc. (Nasdaq:RIOT), Silvergate Capital Corp. (NYSE:SI), Bakkt Holdings Inc. (NYSE:BKKT), Bitfarms Ltd. (Nasdaq:BITF), and MicroStrategy Inc. (Nasdaq:MSTR).